You've used your vote, so take good care of it
A guest blog by Joanne Lee, Sefton CVS
So, I wake up and send my mate Richard a Snapchat story from last night, even though we went see Derren Brown together.
Then a quick scroll through the craziness of Twitter, as I do every day, see that the world is completely mad, but 2017 has been one of those hasn't it? Has it always been like this?
Anyway, I digress. There is a point to all this!
Like any routine, and being starved of tech for nearly three months, I slipped straight into my social apps when I touched down on my flight from Liberia* in May.
It turned out I had the small matter of a general election to vote in. Britain, I can't leave you alone for 3 months!
Before I voted I had to deal with a major comedown – Liberia was monumental, life changing, all of those clichés!
The buzz of seeing my mates, a promotion at work, jaunts to Scandinavia and Hamburg, soon wore off (I still can't get Michael Jackson's Liberian Girl out of my head though).
While all this was going I was sorting out somewhere to live.
Oh, and that general election. I voted in 2015 so I didn't have to worry about registering. Right? Wrong! The electoral register still had me at my old address and I hadn't signed the papers on my new place.
I actually panicked (for five minutes), which probably seems weird to you. I'm not one of the disaffected millennials that you read about in the press, but even my mates who aren't politico geeks were fired up for this election, so no way was I missing out.
It turned out I needn't have worried and my details were updated as soon as I signed my rental papers and could confirm my new address details. Phew!
Yes that's right, if you've changed address without updating your records on the electoral register, or haven't updated your details at your current address in the last 3 years, you won't be able to vote when the next election comes around. And who knows when that will be?
If you're at uni, you can be registered at two addresses, but if you want to vote in a general election, need to decide which of those addresses you will vote at and stick to that polling station.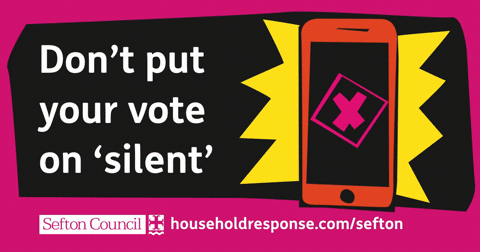 Updating your records is really easy to do online. If it's only to confirm that the details haven't changed, just send a text to 80212 or call 0800 197 9871 Make sure that you use the reference number on the mail out you have received in the post, which I am clearly overjoyed to be holding (see picture above).
If you haven't received the form, contact Sefton Council on 0345 140 0845 or by email
So, that point I wanted to make? If, like a lot of my friends you were finally fired up to get off your backsides in June, a vote is for life not just for elections. You need to take good care of it. If you don't look after it, you won't have a voice.